By Phyllis Bowie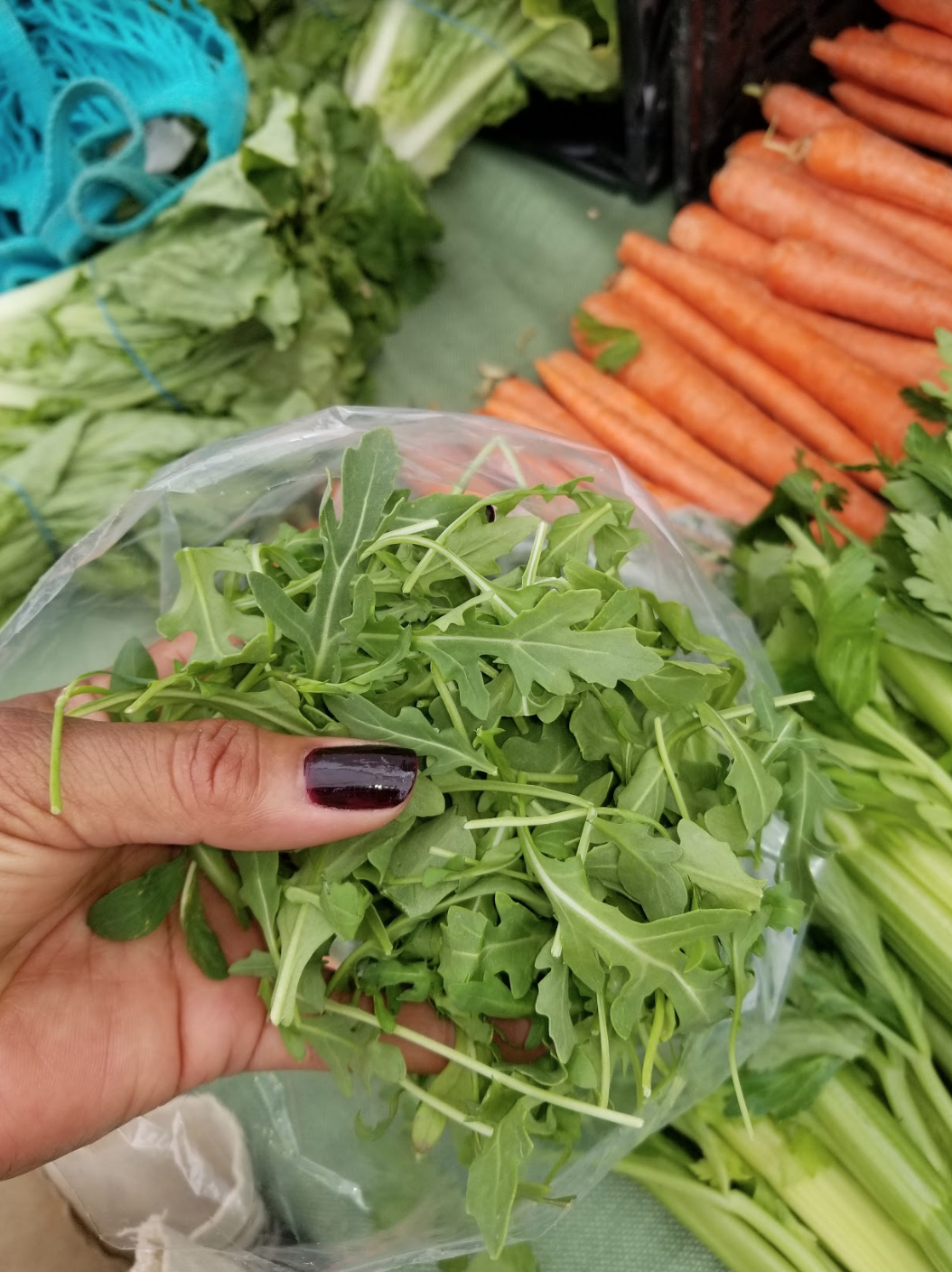 Farmer's Market Organic Arugula
I am thrilled that I find extreme joy in the simple things in life. The Farmer's Market is one of those simple joys. I am in heaven at my local Fillmore Farmer's Market in San Francisco. Fillmore is a histortically African American community. Due to gentrification and soaring outragous rents the population of Black folks in San Francisco is down to 3% and steadily decreasing. So the Fillmore Farmer's Market brings me that extra joy as I watch a few Black families strolling and shopping the market. It gives me a warm sense of community as we all gather to support our local farmer's. Building relationships with your farmers is key to having an informative and bountiful market experience.
Arugula is one of my weekly staples that I always pick up at the market. When I get to the market early I can guarantee getting the choice items and arugula is one of those choice items. View Arugula Video.
I was so thrilled when Riann came to visit from Los Angeles and we shopped the market together with her beautiful son and made a salad in our local Kimball park. View Riann's Video
Organic Celery
Avocado is my other staple that proves to be a little of a challenge. First, not all farmer's grow avocados. So I was so thrilled when Country Rhodes Family Farms started having avocado. To me there is nothing better than a fresh tree picked avocado, so dense and creamy. Tip to having ripe avocados: The challenge is buying them hard and then waiting for the magical 1 day window when it is perfectly ripe, before it is unripe with dark spots. Tip: I buy 4 Avocados weekly from my local Fillmore Farmers Market. The trick is to select all 4 in differant stages of ripeness. 1 ripe ready to eat, 1 slightly soft, 1 medium hard, 1 very hard. This trick provides me with ripe avocados for 5 days!
The farmer's market is more than just a market, it brings the community together. Up the block from the market is one of the few Black owned restaurants Isla Vida. After shopping I stop by and have a great Afro-Caribbean brunch. The last time I dropped by, I had so many bags from the market plus my leftovers, Matthew, co-owner, pulled out one of their totes. When I say I love this tote, I mean I love this tote. The handles are long and the canvas bag is deep for all my veggies. View the tote video
Isla Vida Market Tote
Shopping farmer's markets may be a little higher in price than the super grocery stores. The value of having freshly picked farm fresh fruits and veggies is worth the little extra. To help off set the costs for those receiving food stamp benefits there is a Market Match program. This program doubles the value of food stamps. For every $10 of food stamps the market matches with $10 dollars to spend at the market on fruits and veggies. Now, that is something to celebrate. I support all help that contributes to food secuirty for all independent of income.
If I do not go to Isla Vida for brunch I definitely stop by the local bakery. Sometimes I am conflicted about gentrification. On one hand I mourn the loss of Black owned businesses in the Fillmore. And on the other hand new businesses like Jane the Bakery provide the community with great fresh breads and pasteries. Fresh bread is always a better choice than corner store packaged breads. On this market day I stopped by the bakery and picked up a Mushroom Toast. The toast was made with sourdough whole wheat bread topped with housemade mushroom butter and wild sauteed mushrooms. I had them add a little feta. It was a perfect post market snack! View the Mushroom Toast Video
Jane the Bakery Mushroom Toast
Farmer's Markets give me life. I hope you enjoy my Fillmore Farmer's Market Crawl View Video
Joyful Farmer's Market Shopper