By Phyllis Bowie


From the time I was 5 years old, I remember my Mom wearing bright colors and mixing patterns in ways that my friends' mothers did not. I began to think of her as odd. When I was 10 – and of course by this time wanting to be like everyone else -- Mom's school visits in outfits featuring such items as a bright purple floppy hat and multicolored platform shoes acutely embarrassed me!
As I grew a little older, I began to see that Mom's clothes were a part of her identify and that what I'd thought of as odd, was actually fashionable. By the time I began attending prep school where I was one of the few persons of color, I realized I too needed to create my own identity. Clothes would be a part of it. I eventually embraced my mom's conscious choices that emphasized her differences, even her Angela Davis afro.
Current day I am still inspired by my Mother. My curly Frohawk is my tribute to my Mom!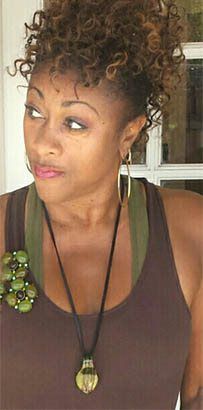 I began borrowing some of these strange clothes to wear myself. But, I wondered, how did she feel about it when people stared? She explained it this way: after her divorce, there was little money and she had to borrow clothes from her sister –clothes from J. C. Penney catalog. Her primary focus as a young single parent of two children was to earn enough money to get her little family out of San Francisco's Potrero Hill Projects.
To do that, she had to work multiple jobs. In order to make herself feel good in this difficult situation, she began working with these borrowed clothes in ways that emphasized her own sense of color and style. It also told the world that circumstances had not defeated her.
In fact, it must have worked: With her slender 5'8" frame and memorable style she soon landed a modeling gig, and many of our money troubles were over. So when people stared at her (her style never did calm down again), she remembered what it helped accomplish and thought of these stares as both admiration and acknowledgement.
What I learned from this is that style is very personal—if it's really style and not an imitation of style, it has to be. It's what you choose that helps you feel good about who you are and where life has taken you. And I owe that valuable understanding and my own sense of style to my Mom. My God‐Niece told me recently, that I have been her style inspiration. So my Mother, her God‐Grand Mother, has taught generations about personal style.


My God‐Nieces' style gets plenty of stares and modeling gigs! I love her blue hair. That gives me an idea. Inspiration! Stay tuned….