By Phyllis Bowie
Savory Scone
I really am a meeting burnout person. I avoid them like the plague. So when I was invited to a lunch meeting and could choose the venue, I was all in. The lunch at the luxury Palace Garden Court made the meeting enjoyable and productive. Since 1909 The Garden Court has been recognized as one of the world's most beautiful public spaces. With its incredible architecture, dome stained glass ceiling and Austrian crystal chandeliers.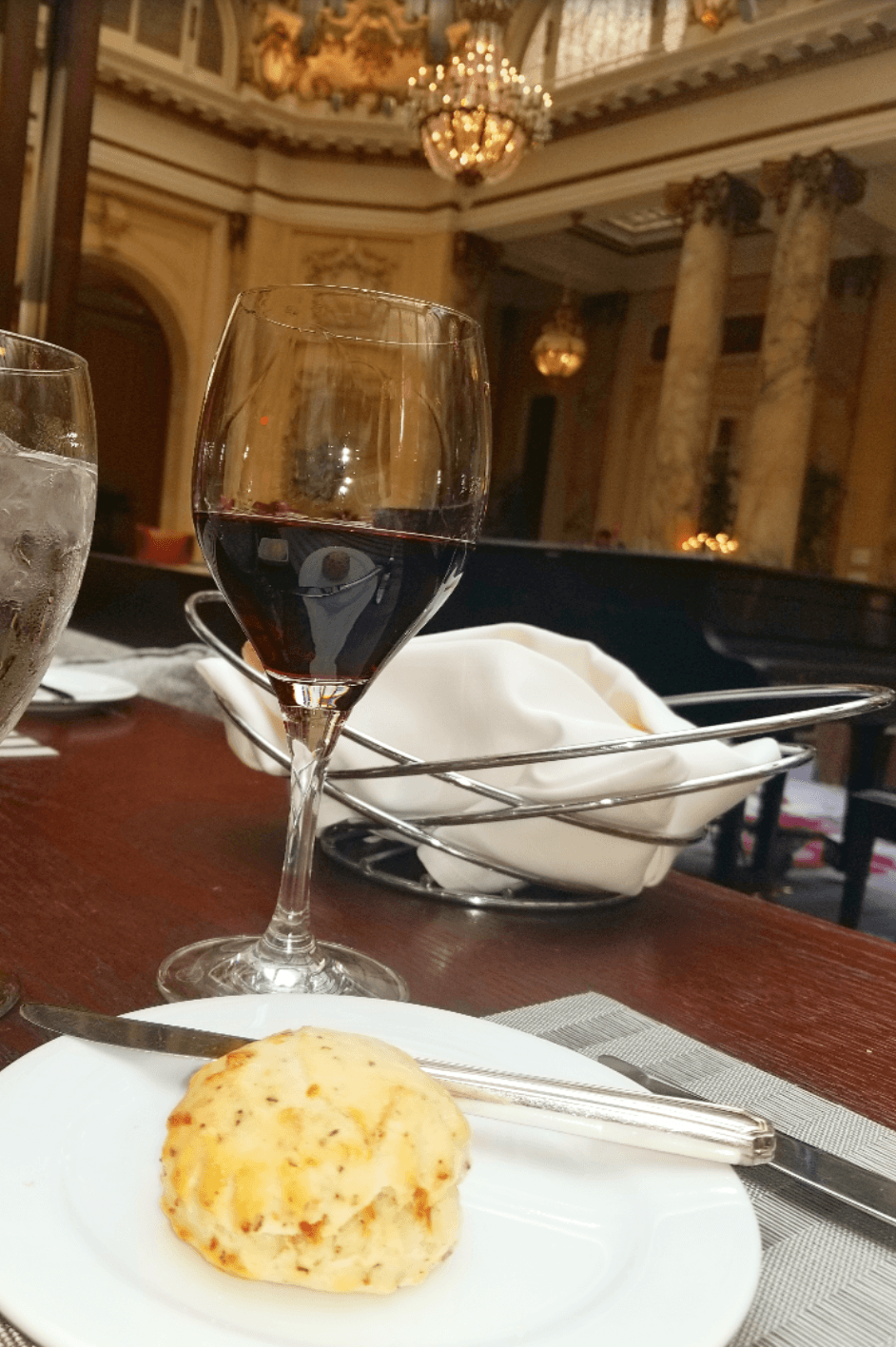 J Vineyards Pinot Noir & Austrian Crystal Chandeliers
Walter our server was so much fun as he recommended a J Vineyards Pinot Noir from Russian River, to go with my truffle wagyu burger. When the bread basket came there was no question in my mind that I was going for it, butter and all! I selected the savory scone from the warm assortment of breads. OMG that scone was crunchy on the outside and soft and cheesy on the inside. View Scone and Calamari video
Savory Scone
By the time our drinks and fried Calamari were served we were deep into the agenda. The Santa Barbara Calamari Fritto Misto was lightly battered topped with fried Squash Blossoms and on the plate was a side of organic rocket greens and marinated tomatoes, haricot vert, carrots and cucumbers. By this time the meeting conversation started sounding like Charlie Browns' teacher - wah, wah, wah, wah! Checkout the burger video
Just in the nick of time our perfectly prepared wagyu truffle burgers arrived. The burger was as expected, juicy and delish but what I did not expect was the perfection of the medium-rare temp. It was evenly pink throughout. The black truffle aioli and grilled onions on a fresh brioche bun made this burger memorable. Thank you to Chef Jesse Llapitan and his team. View Burger Bite video
Wagyu Truffle Burger
Our meeting ended with a second glass of wine and full satisfied bellies. We felt accomplished that we began the long journey to uncovering solutions for Black Economic Empowerment through urban home ownership. We will meet again. As long as it's a lunch meeting, count me in.
The Garden Court Restaurant
2 New Montgomery Street
San Francisco
(415)546-5089
---------A Living With Phyllis Critic's Pick----------
Cost: $$$ Expensive
Food: *** Excellent
Service: ** Very Good